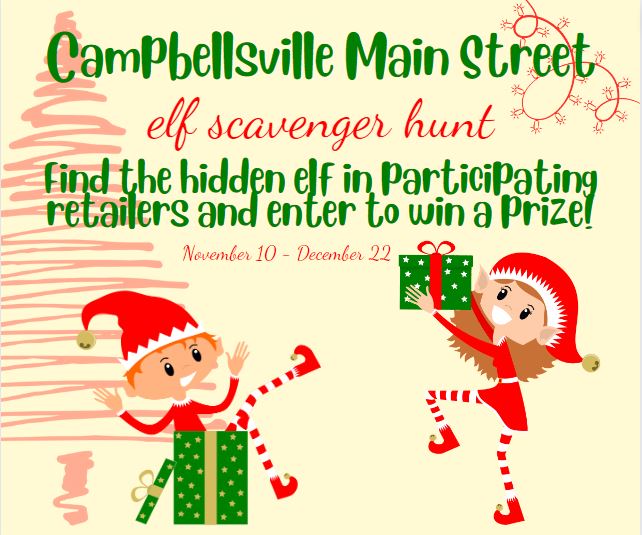 Next Date
Start

November 27, 2023
All-day Event

End

December 22, 2023
All-day Event

This is a recurring event

Repeating every Monday, Tuesday, Wednesday, Thursday, Friday, Saturday, Sunday
Campbellsville Main Street is SO excited to announce our next SHOP LOCAL Scavenger Hunt, beginning Friday, November 10th!!
Find the ELF hanging in your local Campbellsville Main Street retail businesses!  Don't worry, they won't make it too hard to find, but you will have to go inside their store to find it!
Once you've found the ELF take an "ELFie" (selfie) (you or one of your little people MUST be in the photo!) with the ELF visible.
Explore the shop and see what all your local businesses have to offer!  No purchase is necessary to participate.
Post your "ELFie" in the comments on the corresponding Campbellsville Main Street Facebook page (this post will be pinned to the top) and you will be entered to win a chance at a $75 Campbellsville Main Street Gift Certificate.  Each business you post an "ELFie" from will be counted as a separate entry!  We will choose TWO winners!
All the fine print:
You may visit as many businesses as you'd like, but only one post per business, per person (So yes, you can be entered fifteen times if you have visited fifteen participating businesses)
Your "ELFie" must be posted by 11:59 p.m. on December 22. No late submissions will be entered into the drawing. Name entered will be as shown on Facebook comment.
Winners will be announced by the 23rd of December and will get a Campbellsville Main Street Gift Certificate worth $75 to be used at any participating business listed on the back of the gift certificate
.
  You will 
pick up
 your Main Street Gift Certificate at Tuckers Diamonds & Gold.  Gift certificates have no cash exchange value and will have an expiration date. 
Upcoming dates
November 27, 2023
November 28, 2023
November 29, 2023
November 30, 2023
December 1, 2023
December 2, 2023
December 3, 2023
December 4, 2023
December 5, 2023
December 6, 2023
December 7, 2023
December 8, 2023
December 9, 2023
December 10, 2023
December 11, 2023
December 12, 2023
December 13, 2023
December 14, 2023
December 15, 2023
December 16, 2023
December 17, 2023
December 18, 2023
December 19, 2023
December 20, 2023
December 21, 2023
December 22, 2023
December 23, 2023
December 24, 2023
December 25, 2023
December 26, 2023