Winner of 2019 Downtown Beautification Award Announced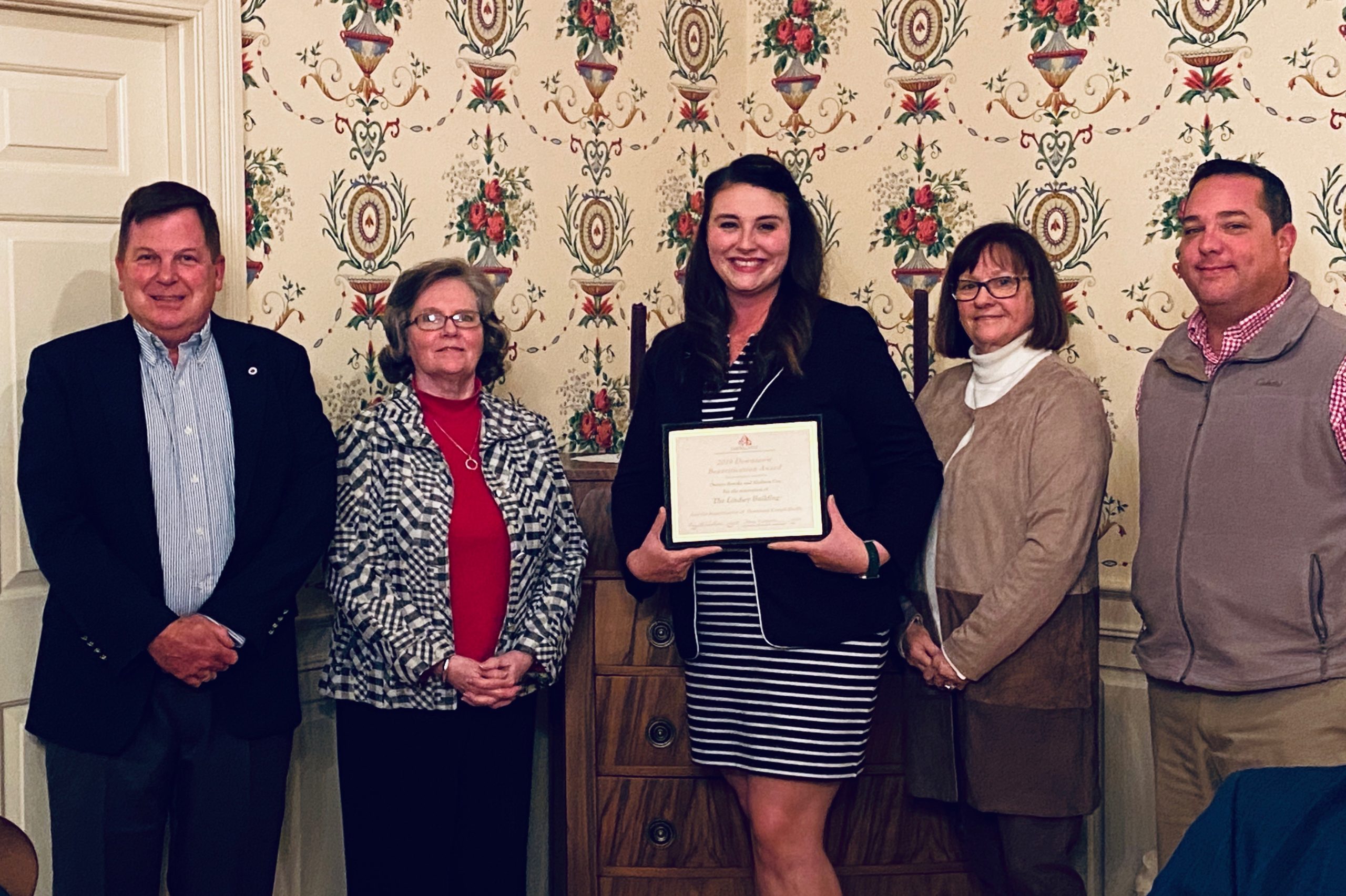 The 2019 Downtown Beautification Award is presented to property owners who successfully renovate their building exterior following the Secretary of the Interior's Guidelines for Rehabilitation and have made a positive visual and economic impact in the downtown Campbellsville Main Street Area.
This year the award was given to Brooke and Madison Cox for the exterior renovation of the former Lindsey Institute of Cosmetology and the State Beauty College, now known as The Lindsey Building, located at 107 N. Central Avenue in downtown Campbellsville.
In 2018, Brooke Cox and Madison Cox purchased the building and removed the exterior awning, removed the existing storefront windows that were cracked with bullet holes and replaced them with new energy efficient glass, removed the existing recessed entry doors, installed new glass and metal doors, and returned the front building profile to its original depth, removed cracked black plastic tiles and adhesive to expose the existing brick wall, painted the entire brick wall a dark navy color, installed exterior lights that shine up and down that are evenly spaced on the front façade, replaced the entire flat roof, and reused the existing sign and structure and renamed the building "The Lindsey Building."
The Certified Local Government/Historic Preservation Commissioners reviewed all of the projects that took place between 2018 and 2019 and decided that this was the most appropriate building to receive the Annual Downtown Beautification Award this year because it is the best example of a historic building that has been renovated not only on the outside but on the inside into a law office, counseling office, and two upper story housing units making downtown Campbellsville a more attractive place to live, work, shop, dine and play. The award was presented at the November 12, 2019 Annual Campbellsville Main Street and Historic Preservation Commission Dinner held at Dr. Michael and Mrs. Debbie Carter's residence.
Congratulations to Brooke and Madison Cox!
Pictured from left to right is: Campbellsville Main Street President – Doug Tucker, Historic Preservation Commission Chair – Gwynette Sullivan, Downtown Beautification Award winner – Brooke Cox, Campbellsville Main Street Director – Donna Logsdon, and Historic Preservation Commission Vice-Chair and Treasurer – Jim Miller.